Services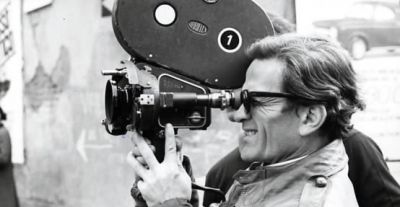 With Enrique Irazoqui while filming
The Gospel According
to St. Matthew, 1964
Consulting the catalogs online
The catalog of books and dissertations kept at the Archive may be consulted in the Cineteca's online library catalog. The catalog of audiovisual materials is part of the Cineteca's VHS and DVD database.
Accessing the archive
The archive is open to the public from 1:30 PM to 7:30 PM, Tuesday to Friday. Documents can be consulted by appointment only (call (+39) 0512195302 or send an email), except books, dissertations and audiovisual materials listed in the catalog.
Location
All the Pasolini Archive's printed documents are located in a reading and consultation room at the Cineteca's library. Photographs are kept in the Photo Archive on the first floor of the library. The audio and audiovisual materials – on VHS or DVD – are located in the library's Audiovisual Section, also on the first floor.
Many materials, one database
In spring 2004, work began on the creation of a database of the Pasolini Archive's iconographic, audio and audiovisual materials as well as the descriptions of the card index organized by Laura Betti for the Pier Paolo Pasolini Association of Rome. The scope of the database is to unify critical works from around the world and journalistic publications in one search tool. The unfinished database can be consulted at the Cineteca's library by appointment.