Publications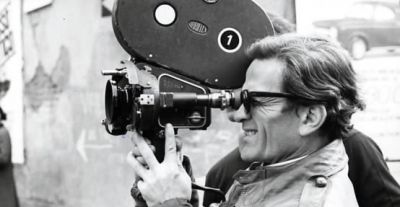 Published works by the Research Center include the facsimile issue of the magazine Officina, published by Pendragon in 2004; Laura Betti, Illuminata di nero, Cineteca Speciale (2005), a collection of rare, unpublished documents about the great actress from Bologna; Pasolini und der Tod (Pinakothek der Moderne, Munich, 2005); Pasolini O sonho de uma coisa (Cinemateca Portuguesa – Museu do Cinema, Lisbon, 2006); Pasolini il cinema in forma di poesia (National Cinema Museum, Turin, 2006); Progetto "Petrolio" (CLUEB, 2006), essays on the writer's unfinished novel; Pasolini, Callas e "Medea" (FMR - Franco Maria Ricci, 2007), edited by Roberto Chiesi, with unpublished writings by Pasolini about the 1969 film; Pier Paolo Pasolini, Poet of Ashes (2007), edited by Roberto Chiesi and Andrea Mancini, published by the American landmark publisher City Lights founded by Lawrence Ferlinghetti and Titivillus; La Rabbia di Pier Paolo Pasolini, published by the Bologna Cineteca (publication underway).
The Pasolini Research Center has contributed to journals such as Poetiche, Segnocinema and Europe. It also provides content for the international journal Studi pasoliniani, published by Fabrizio Serra Editore (Pisa).
Recently the Pasolini Research Center edited Notes Towards an African Orestes, a special volume included with the DVD of Pasolini's film published by the Bologna Cineteca.