Non-Film Archive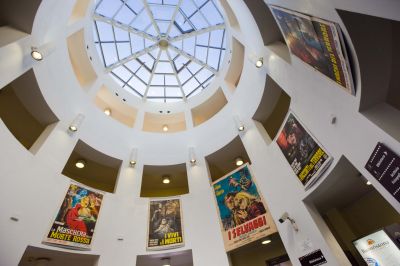 In the world of moving image archives the expression "non film" is used for documents regarding the creation and distribution of a cinematic work: story outlines, screenplays, set and stills photos, correspondence, preparatory notes, posters, lobby cards and brochures. These invaluable documents facilitate reconstructing the making of a film and understanding the complex journey of its production. The analysis of printed documents demonstrates a history that runs alongside the history of film – one that has never been written and of which these pages are the only remnants.
Preserving for future generations
Public and private organizations, collectors, critics, filmmakers and producers have all expressly chosen to entrust the Cineteca with their own collections for preservation, cataloguing and access for study and research. In addition, the Cineteca actively disseminates these materials through annual exhibitions and editorial projects, making it possible for a wider audience to learn about these invaluable resources.
Collections online
Special initiatives have been launched recently to make a selection of documents available online: from the entire Chaplin Archive to the cataloguing and digitization of censor certificates (Progetto Italia Taglia) to the creation of the Cinestore where archive photos may be viewed and bought as well as films and publications. The newest online addition is the publication of the Blasetti Collection inventory. These initiatives demonstrate the Cineteca's commitment to the protection and promotion of its archives using the latest technology.


Info and contacts
Renzo Renzi Library manager: Anna Fiaccarini
anna.fiaccarini@comune.bologna.it

Renzo Renzi Library
Via Azzo Gardino, 65/b, Bologna
Tel: (+39) 051.2194843
CinetecaBiblioteca@comune.bologna.it