The Collection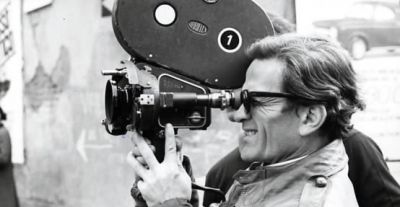 The holdings of the Pier Paolo Pasolini Research Center and Archive include:
a vast selection of over 1200 books by and about Pier Paolo Pasolini
a collection of magazines that Pasolini either edited or contributed to between 1942 and 1975; a collection of special issues of literary, film and theater periodicals about the writer
extensive press cuttings (essays, studies, reviews, interviews, statements, investigations and news stories) organized in 70 chronological containers from 1944 to today
around 500 dissertations presented in universities in Italy and abroad from the 1977/78 academic year to the present
scholarly essays and studies on Pasolini's work and accounts from his collaborators; novels, plays, screenplays and other texts inspired by and dedicated to the man and his work
around 90 dossiers relating to the cultural initiatives organized and promoted in Italy and abroad from 1979 to 2004 by the Pier Paolo Pasolini Association of Rome, including catalogs, posters, press cuttings and other documents
1000 audiovisual materials (videos and DVDs), including all of Pasolini's films, cinematic works he contributed to or were inspired by him, and television programs he worked on or are about him
photos of Pasolini's cultural activities and his public and private life organized in over 40 containers, consisting of around 3000 prints and 4000 negatives and photographic plates
around 30 video recordings and over 200 audio cassettes, including radio programs, recordings of conferences and public events Pasolini participated in, debates and speeches dedicated to him. The recordings were recently digitized
30 LPs and CDs with recordings of Pasolini's voice, songs written by him and musical works inspired by him
Consulting the catalogs online
The catalog of books and dissertations kept at the Archive may be consulted in the Cineteca's online library catalog. The catalog of audiovisual materials is part of the Cineteca's VHS and DVD database.
Location
All the Pasolini Archive's printed documents are located in a reading and consultation room at the Cineteca's library. Photographs are kept in the Photo Archive on the first floor of the library. The audio and audiovisual materials – on VHS or DVD – are located in the library's Audiovisual Section, also on the first floor.
Many materials, one database
In spring 2004, work began on the creation of a database of the Pasolini Archive's iconographic, audio and audiovisual materials as well as the descriptions of the card index organized by Laura Betti for the Pier Paolo Pasolini Association of Rome. The scope of the database is to unify critical works from around the world and journalistic publications in one search tool. The unfinished database can be consulted at the Cineteca's library by appointment