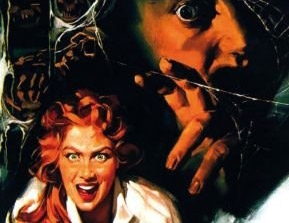 Riccardo Freda. A Master of Popular Cinema
Riccardo Freda's great period began immediately after the war with the adventure films he made for Riccardo Gualino's Lux and ended in the 1960s with Lo spettro. During that time the director worked on high-end productions and second-rate ones but always according to his creed of energy and speed. Film is an art to be done in a hurry, as the director often said: "When the production of a film takes too long, enthusiasm drags, and the film's rhythm is affected by it. Ideally, you put a reel in the camera, call action and never stop".
Averse to the quintessential Italian film genre, comedy, and a sworn enemy of Neorealism, Freda always presented himself as an 'American-style' director, a master of action movies, a creator of grand melodramas and even a pioneer of Italian horror film. Literature played a leading part in his idea of popular cinema, a veritable storehouse of celebrated and unknown references melding high and low (Dante, Pushkin, Hugo, d'Ennery). Opera librettos and silent films were also great sources of inspi­ration for the director. Aside from literary adaptations, many of his films were remakes of silent films he had been fond of ever since his pied-noir childhood in Egypt: Valentino, Maciste, Griffith… Certainly not a cinephile, Freda nourished himself on film: thinking he was heir to a tradition, he became a master of style. It is not surprising that he is admired by extremely di­verse directors, from Bertrand Tavernier to Giuseppe Tornatore. The classic camera movement in his films, it has been said, was a lateral or diagonal dolly that leads a character into a crowded venue, a place to explore, possibly full of peril, where that char­acter is always at the center of the action and the scene. There is undoubtedly a 'Freda style' – wide, curving camera movements, with a dolly and crane – just as there are Fredian heroes – at least during the first phase of his career – who are noble, brave and typical of popular storytelling. But at a certain point (with horror films, for example) it is not a question of good or bad. Freda became more cynical and disappointed with man and certainly with filmmaking.
A total filmmaker and totally popular, Freda was ignored by Italian critics but he was rediscovered in France through the auteur theory. He was a banner macmahonien director, but he was also admired by the "Positif" crowd. In Italy he has also had tributes and been reinterpreted, especially by the genera­tion that strove to free itself from the ideological hegemony of Neorealism. Thereafter, cinephiles would especially esteem his horror films, but his distinctly classic cinema never did enjoy that perverse, pop or trash type of fascination of the later genres. Freda was perfect for cultural battles and provocation but also for engaging and thrilling generations of audiences and critics alike. His work appears to us today as an example of a lost cin­ema to be read alongside the history of culture, of the modes of production, and of the audience in Italy and beyond.
(Emiliano Morreale)
Programme curated by Emiliano Morreale