Foreword
The Mostra Internazionale del Cinema Libero and Cineteca di Bologna invite you to mark your calendar for the
25
th
edition
of
Il
Cinema Ritrovato
film festival,
Saturday, June 25 to Saturday July 2, 2011
. Work is underway and below you will find a sneak peek of the program we are putting together: the main festival sections and up-to-date results of our annual "hunt" for the best film restorations worldwide (this year is full of surprises).

Piazza Maggiore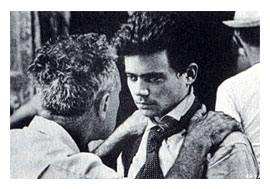 We'll be lighting up Piazza Maggiore for you every evening: this year our most magical screen will feature the thousand and one fantasies of The Thief of Bagdad by Michael Powell with Conrad Veidt (1940) in a restored version by ITV Studios Global Entertainment and Park Circus; the fierce masterpiece by a young Martin Scorsese, Taxi Driver (1976), recently restored by Sony Columbia; America America by Elia Kazan (1963), a poignant autobiographical work that still resonates today as a tribute to emigrants around the world, restored by Warner Bros. with the Film Foundation. Edizioni Cineteca di Bologna and Il Cinema Ritrovato will publish the first European DVD edition of Martin Scorsese and Kent Jones'documentary A Letter to Elia; this special edition will include the Italian translation of Kazan on Directing, an extensive collection of writings, notes and letters.
Howard Hawks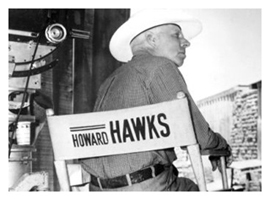 After Frank Capra and John Ford, this year's big retrospective offers up spectacular editions of early works and later masterpieces by Howard Hawks, the genuine auteur of American film, the "great craftsman" whose stature as a maestro was affirmed by Cahiers in the 50s and a person who influenced the creation of the Hollywood myth as much as the same Ford and Hitchcock. Hawks who challenged and transcended every production condition, Hawks friend to Hemingway, Hawks narrator of the most memorable and ambiguous male relationships in film history, Hawks inventor of a powerful new American female archetype, Hawks relentless creator of his own legend, Hawks who in fifty years covered every genre of film without losing his grip on his incomparable style. We will show all Hawks's silent films available today (Fig Leaves, The Cradle Snatchers, Paid to Love, A Girl in Every Port, Fazil, Trent's Last Case) and many sound films from the 30s, starting with his first The Dawn Patrol from 1930 to Barbary Coast from 1935, rare flicks such as Criminal Code, The Crowd Roars, Tiger Shark and milestones of gangster movie and screwball comedy genres such as Scarface, Shame of a Nation and Twentieth Century. And that's not all; we are working on showing Hawks classics that are the height of their genre and continue to be a thrilling visual adventure, from Gentlemen Prefer Blondes to The Big Sleep. "The evidence on the screen is the proof of Hawks's genius" wrote Jacques Rivette in 1953. Watch it, and watch it again.
Conrad Veidt, from Caligari to Casablanca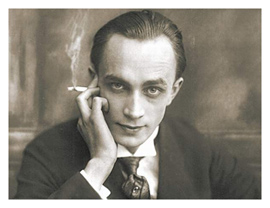 After years of research, this year's festival will be the one which finally pays tribute to Conrad Veidt, the great actor of silent German film, the sublime mask of expressionism. The "strange creature" of The Cabinet of Dr. Caligari lent his long face with throbbing veins to Wiene, Oswald, Pabst and Leni in various films of the 20s, before leaving Nazi Germany in 1934 and starting an English career that reached its apex with director Michael Powell (The Thief of Baghdad). Veidt's career and life came to an end in America, where he acted in a few militant anti-Nazi films but is best known for his role as Major Heinrich Strasser, shot dead in the final scene of Casablanca.
At the Heart of 20th Century: Socialism between Fear and Utopia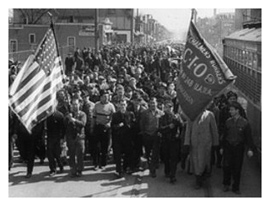 The 20th century could arguably be called the century of Socialism: one word that combines the greatest hopes, illusions, fears and defeats of the 1900s. Socialism created a sort of "magnetic field" in cinema and gave birth to immortal works of near blind faith – films seldom seen today, such as Slatan Dudow's Kuhle Wampe, Renoir's La vie est à nous and Hurvitz's Native Land, all of which have the spirit of the age stamped in every unforgettable image and sound. Many other titles are even lesser known: Hunger in Waldenburg by Piel Jutzi, Revolt of the Fishermen, the only film directed by Erwin Piscator, Kämpfer by Gustav von Wangenheim – two films made in the Soviet Union – or Hampe Faustman's Swedish production Främmande hamn and Song of the People from England. The same era produced equally powerful counter-images: Karl Ritter's dark GPU and Hans Steinhoff's Hitlerjunge Quex as well as Alessandro Blasetti's Vecchia guardia and Goffredo Alessandrini's epic Noi vivi/Addo Kira. Our program also includes ambivalent films like The President Vanishes by William Wellman and Gabriel over the White House by Gregory La Cava, where socialist ideology and near-fascist populism are provocatively intertwined.
curated by Peter von Bagh
Alice Guy: Tribute to a Pioneer of Cinema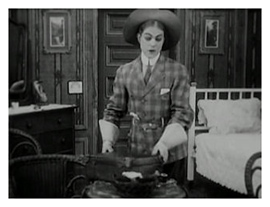 in collaboration with Gaumont Pathé Archives
Alice Guy Blaché's story is like no other in the history of moving images: a woman and pioneering filmmaker, Alice was at the forefront of the technological, industrial, and cultural changes that made cinema the new form of mass-media entertainment. From early sound technology, like Gaumont's Chronophone synchronized sound system, to her American production adventure with Solax (1910-1914), from distribution with the U.S. Amusement Corporation (1916) to feature length films such as The Ocean Waif (1916), Alice Guy participated in every aspect of the evolving motion picture business, adapting to new developments and challenges. Although Alice Guy is most celebrated as the first woman director in film history, this achievement only scratches the surface of her vast accomplishments. She paved the way for women as creative professionals and as powerful agents of economic and social change. Our program features a selection of films produced by Alice Guy's American company Solax as well as early films she directed at Gaumont and a feature film she made as an independent working in the U.S. industry.
curated by Kim Tomadjoglou

Boris Barnet, Poetic Visions of Everyday Life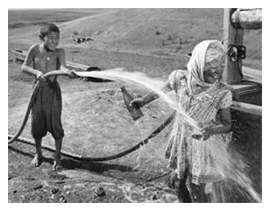 Our vast tribute to Boris Barnet spans from early Soviet cinema to the 1960s. Barnet debuted as an actor in the legendary Mister Vest by Kulešov before beginning his career as a director. Refusing to yield to genre formulas, Barnet was all but completely ignored by the mainstream and received off and on criticism. Surrounded by great "revolutionary" filmmakers, the work of this artist faded into the background. Today, however, Barnet is considered one of the most interesting and pioneering directors of classic Soviet film for his narrative style that balances lyricism, irony, spontaneity and drama in a constant dialogue between playground and reality. A view of the world and of humanity that we discover following the "Barnetian" hero from everyday adventures in silent films from the 1920s to Barnet's final intimist works Alenka (1961) and Polustanok (The Whistle Stop, 1965), interspersed with masterpieces, such as Okraina (The Outskirts, 1933), about the Great War at the turn of the Revolution, and the surreal U samogo sinego morja (By the Bluest of Seas, 1934). Other works include Staryj naezdnik (The Old Jockey), a 1940 comedy that was dear to the director but was banned until 1959, films made during the war between 1941 and 1944, and Podvig razvedčika (Secret Agent, 1947) in which Barnet also acts, admirably playing a German official.
curated by Eugenia Gaglianone
Chaplin Project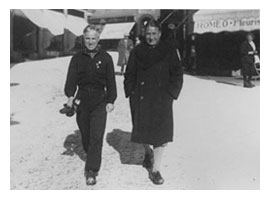 Over the last ten years the Chaplin Project has devoted a number of programs to Charlie Chaplin with the aim of preserving and disseminating his films and widening knowledge on his archives. This year Kate Guyonvarch (director of Association Chaplin) and author Lisa Stein will present the new biography Syd Chaplin, a unique portrait of Sydney Chaplin's life and art which also sheds light on unexplored areas of Charlie's career. The presentation will feature a screening of rare home movies.
Moreover, two 'four-hand-dossiers' curated by Cecilia Cenciarelli: one with Kevin Brownlow focused on Eddie Sutherland - director, actor, assistant director to Chaplin in A Woman of Paris and The Gold Rush - also featuring a selection of his silent and sound films; the other with David Robinson will explore, through the analysis of the archival drafts, Chaplin's script of The Great Dictator.
curated by Cecilia Cenciarelli
Photo: Charlie e Sydney Chaplin (©Roy Export Company Establishment)



Our next newsletter will provide more information about the program classic sections: Recovered and Restored, Searching for the color of film and 100 years ago: the films of 1911.

The festival also hosts the Film Publishing Fair (books, DVDs, antique and vintage materials) and Il Cinema Ritrovato DVD Awards (8th edition) in addition to two seminars organized by European Film Gateway (digitalization and online dissemination of archive materials) and Europa Cinemas and Progetto Schermi e Lavagne (a seminar for European quality cinema exhibitors). Forms will soon be available on our website for seminar enrolment.

Despite all the difficulties created by the economic crisis, we are working to put together the best festival fit for celebrating twenty-five years of Il Cinema Ritrovato and are planning a program that we believe will live up to our and your amour du cinéma.

Hoping to see you in Bologna, we send you our best regards