Emilia-Romagna's visual memory
A Cinematic Census for the Region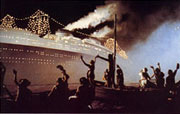 Safeguarding Our Cultural Heritage
The statistics are revealing: Emilia-Romagna is the Italian region with proportionally the greatest number of cinema-goers. A significant fact, and many more also testify to the profound link between this land and film. Just thinking of the number of great filmmakers born and educated here, shaped by the territory, or the great variety of films set in the region, is enough to realize how essential a census is to measure and record the phenomenon in names, films and locations. The project "Per conservare la memoria visiva Emiliano-Romagnola" (to preserve Emilia-Romagna's visual memory) was created to respond to this need for cataloguing and preservation with a concrete solution.
Mapping Names and Places in a Land of Film
The task of researching and collecting material and information began under the technical supervision of Renzo Renzi in 1998, thanks to a collaboration between the Cineteca and the Region of Emilia-Romagna. The result is a fascinating database: a consultable catalogue of over 350 films, detailing not only technical and artistic credits, but also locations divided by province. The extensive mapping carried out by Manuela Marchesan and Mauro Bonfacino also covers works which cross the region's borders, either because they were filmed along the River Po, or reconstructed in the studio, like Federico Fellini's Rimini. A cinematic continuity, which truly merits being recorded and remembered.
Via Azzo Gardino, 65/b, Bologna
Director: Anna Fiaccarini
tel: (+39) 0512194843
cinetecabiblioteca@comune.bologna.it