L'Immagine Ritrovata
A Cutting-Edge Restoration Workshop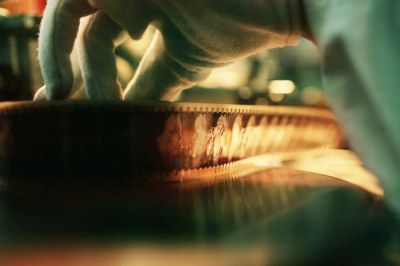 From Analogue to Digital: Pushing the Boundaries of Restoration
The most technologically advanced forms of restoration are available at the L'Immagine Ritrovata (the rediscovered image) workshop, a versatile and highly qualified laboratory active in a wide variety of fields and offering an equally wide variety of services. Specialized since its inception in photochemical film restoration, in recent years the workshop has broadened its range to include digital technology. New equipment allows not only complex processes of colour correction and sound restoration, but also a move towards audio and video post-production.
A Range of Skills for the World's Archives
Since its establishment in 1992 following a training course sponsored by the Bologna Cineteca and the Istituto per i Beni Culturali among others, the workshop has benefited from the involvement of some of the best film-restoration experts, who have provided not only technical assistance but also cultural and historical support. This expertise characterizes a workshop that over time has become one of the most technically skilled film-restoration labs in the world, providing archives everywhere with the opportunity to see their films returned to their original splendour.
Management, Training and Summer Schools
In addition to constantly updating its equipment and staff training, the workshop saw another leap in quality when long-time collaborator Bologna Cineteca assumed direct responsibility for its management. Subsequently the Region of Emilia-Romagna decided to invest in strengthening the workshop's structure and opportunities. We now have the unique case in Italy of a specialized workshop being entirely publicly owned.
Apprentices, trainees and researchers are always warmly welcomed, and the workshop was selected as the official location for the two-year Film Restoration Summer School 2008/2009 project sponsored by the Bologna Cineteca, FIAF (Fédération Internationale des Archives du Film), ACE (Association des Cinémathèques Européennes) and the European Union's MEDIA Plus Programme.