Tickets and Cards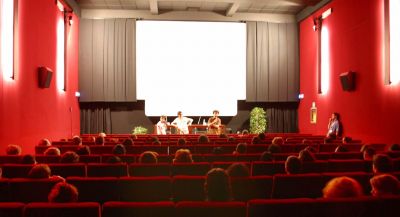 Cinema Lumière
Via Azzo Gardino, 65
tel: (+39) 0512195311
TICKETS
Scorsese and premieres
€7.00 (Wednesdays: € 5.00)
FICC members and Amici della Cineteca: € 5.50
AGIS (except holidays): € 5.50
Students and Youth Card holders (except Saturdays and holidays): € 4.00
Over 60: € 3.50
Officinema/Mastroianni
€ 6.00
FICC members: € 4.50
Amici della Cineteca: € 3.50
AGIS (except holidays): € 5.00
Students and Youth Card holders: € 4.00
Over 60: € 3.50
Partner discount (except for premieres)
University of Bologna personnel
Municipal employees
Carta Più Feltrinelli holders
SAB members (Bologna airport)
Alliance Française de Bologne members
Associazione culturale italo-britannica members
British School of Bologna members
Associazione culturale Italia-Austria members
Istituto di Cultura Germanica di Bologna members
Associazione culturale italo-belga members
ATC card holders
Slow Food members
€ 5.00
Schermi e Lavagne
Kids up to the age of 17, university students, senior citizens, Youth Card holders, Coop members: € 3.00. For every six tickets, the seventh is free.

Disabled with companion
Free
NB: for discounts you must show your membership card or identification card; reductions are valid only for regular programming and do not apply during festivals.
The screenings marked with an asterisk (*) in the paper program are reserved for members of the Federazione Italiana Circoli del Cinema (FICC). Membership cards are valid for a year and are sold at the box office.

STUDENT CARD
The University of Bologna and the Cineteca offer students enrolled at the university a Student Card of 10 films for 20 euros instead of 30 euros. To get one you must:
- be enrolled for the 2011-2012 academic year
- send a request to adas1@unibo1 with your information (name, last name and date of birth)
- show the confirmation email from the university and your identity card at the Lumière box office
Student Cards purchased in 2011 are valid until December 31, 2011. Student Cards bought in 2012 are valid until June 2012. It is valid every day for Sala Officinema / Mastroianni screenings. A maximum of 1500 Students Cards are available. The Student Card may be renewed depending on availability.

FICC MEMBERSHIP CARDS
FICC membership card: € 5.50